Dear all
I don't have an AP yet… I like the RO especially the 15202 but it's too big for my small wrist (the case of 39mm is ok just the lugs design that was a problem).
Recently I visited the Singapore AP boutique with 2 fellow PuristS and got to know there is a 37mm RO ref 15450. I thought it was for ladies only and mustered the courage to try the PG black dial version (my photo doesn't do it justice – the PG of AP is a very nice warm hue and coupled with a black dial with a black window aperture is just perfect!
What do you think? Is this better for ladies only or men with small wrists like me can get one too?
One of my friends with larger wrist could carry the 15202 so well! I wish I have his wrist size !
CheersRobin
And that's not at least a strategic measurement the ladies are monitoring.
It's a fact that men have different sizes of wrists. I think the watch producers should respond to this fact by producing different sizes of watches. If the watch is too big, one will hit it to all possible places.
I think the 37 mm Royal Oak looks very good on your wrist. I do not see it as a female watch at all. My wife is of average height of this part of the world, 167 cm, and we also tried the 37 mm Royal Oak in the same AP Boutique. The watch looked stupidly big and heavy on her wrist. I think that the maximum size of a watch for an average size lady is around 33 mm.
The watch manufacturers are very clever when they produce huge watches now when big watches are fashionable. When they will go out of fashion, those watches go to drawers to collect dust and people will buy reasonably sized watches.
I have a biggish wrist of 8 inches/200mm. The maximum size of a watch I am buying nowadays is 40 mm. So my "ideal size" is 36-40 mm and those fit well to my wrist. Like said, this 37 mm RO looks great in your wrist. I hope to see it in metal in April.
Best, Kari On what women look for lol
Thanks for your feedback. Will mull over this
CheersRobin
i have exactly the same technical constraint with AP RO lugs then i just bought a 37 case size perfectly fitting my wrist and very confortable to wear (you even forget that you have the watch).
size does not matter, fitting and global consistency are most important.
my 2cts
Pierre
Thank you for your feedback and sharing

CheersRobinThe 15450 is touted by AP as a unisex model, but I think if it suits and works to our wrist size and preference, that's all there is to it. It's a handsome watch and one that I liked enough to get one as you know and the size IMO is perfect for wrists 7″ or under.
Here's a wrist shot, and I wear this a lot in my rotation, and I haven't received any feedback from collectors and non-collectors alike indicating that it's small – on the contrary, it's received quite a fair share of praises for it's design and play of light.
and masculine on your wrist. So no issues here.
Best, KariLet me check out the steel version with white dial too
Thanks for your inputs!
CheersRobinan over big 41mm RO on a small wrist.
I have a 16mm wrist and thought the 39mm or the 15202 are a little too big for me.
Hence, I tried the 37mm and it looked perfect (even if it looks a little bit thicker, as the proportions must be different from the standard sizes).
It looks great on your wrist so that is what matters.
Cheers, Mark
I will try this steel white dial version too! It looks great on you!
CheersRobin I happen to have a flat wrist and the 39mm Royal Oak fits me like a glove. But if I were to wear a different model, it would be the 15450. I have compared it directly with the 41mm 15400, and the proportions of the 37mm model are just about perfect and much more pleasing to my eyes. And add the fact that you are considering the pink gold version- more than enough presence on the wrist. From your photos, it is the clear choice.
I hope we welcome you to the world of AP ownership with this special Royal Oak!Thanks for your inputs! The PG from AP is superb!
CheersRobinYou like it, it fits you, it was made for you! No two ways about it
From memory, you didn't look at all like a lady when we met

Great choice Robin.
CheersFrancoisThat I don't look like a woman. Some of my wrist shots can be mistaken for a lady's wrist lol!
Thanks Francois for your inputs

CheersRobinI have worn a 14790 for the longest time. I love how it fits… this 37mm looks great and I would jump on it!!
Or, an alternative would be to look for a vintage AP RO 5402 which has a different bracelet feel – look out for one and try it, it just sits differently on the wrist (or even an older 15202).
Great!SWill check out some of the older models of AP ROs

I wish AP does a 37mm blue dial version soon!
CheersRobinHi Robin,
I think this looks great on your wrist, but possibly, maybe a bit on the big side. Have you considered older models?
The RO 14790 came after the 5402 and before the modern models, was designed for men (not that this matters really), and sits closer to the wrist than the 15450 so you can easily wear it under a cuff if you want to. Here are two photos for a quick size comparison. I have a 7 inch wrist.
36mm 14790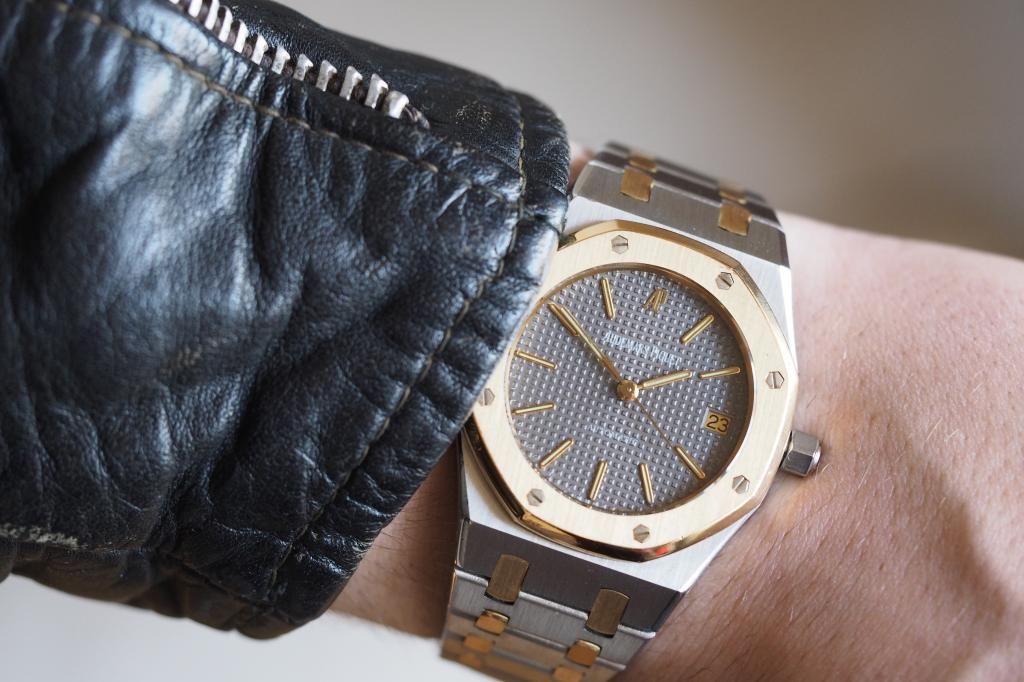 and 39mm 5402 (thanks Ken!)
These older models wear much "smoother" than many of the more modern ROs in my opinion, which is due to a combination of slimmer case designs and smaller case dimensions. This suits smaller wrists particularly well.
If you're targeting new watches only, than I think the 15450 is a great option and the PG is stunning. Happy hunting!
MattNo message bodyIndeed there are some 36mm AP ROs I should look at in the older collection
Thank you for the idea
CheersRobin.. and yes, small wrist men could go for this, too! Definitely!
KenFor PG lovers like me, the PG in AP especially in the RO is irresistable !
CheersRobin
My experience with the RO's is that they look and behave on the wrist +-2 mm larger than their stated diameter.
This has to do with the overall design and extended lugs and is even more pronounced in the versions with the steel bracelet.
Best,
Gerard
+2mm is a good estimate. Totally agree especially the steel bracelet ones
Good to hear you think the 37mm is good on me

CheersRobinI like it! And don't forget PP has 5140 37mm PC in men collection. Men, women…what difference does't it make? I would wear such a nice watch!
ConstantinThanks for your feedback !

CheersRobin
I too have a smallish wrist 6.5″ I think the 15450 fits you well. But my first choice is the jumbo 15202, do you have wrist shot of the jumbo?
The 15202 was too big for me due to the lugs and bracelet design. See this pic of the 15202 on my wrist. There is a big gap at the lugs at my wrist.
Hope you have a chance to try it too

CheersRobin
Hey JrWong23
What is your wrist size, so that I can get some idea how it would look on my wrist!
15450 does not come with the iconic blue dial, this is stopping me from looking at buying 15450 seriously.